Experts in sewer cleaning since 1961 are coming to Quebec!
The family-owned company offers various high-quality services with a focus on environmental responsibility.
Sanivac, a leading Quebec-based company in the sanitary and sewer cleaning industry for multiple generations, is proud to announce its official arrival in the beautiful city of Quebec. Recently winning the prestigious municipal contract for sewer cleaning in the city for a duration of 3 years, Sanivac has decided to establish permanent full-time teams in the region. This expansion will enable Sanivac to meet the needs of the Quebec community by offering a complete range of urban infrastructure maintenance services and much more.
A commitment to quality and the environment
Since its establishment in 1961, Sanivac has always strived to provide high-quality service to its customers. Our team of highly skilled and trained experts is equipped with custom-made trucks and the best tools in the market to ensure impeccable results. We understand the importance of a clean and healthy environment for the well-being of the community, which is why we are committed to using environmentally friendly methods in all our operations and conducting our transshipment in sites approved by the Ministry of the Environment.
With our expansion in Quebec, we currently have several permanently established full-time teams in the city. We are currently searching for a new location to expand our operational base, which will serve as the headquarters for our offices and team expansion. This facility will allow us to better meet the needs of our clients in Quebec and the surrounding areas, ensuring a constant presence for preventive maintenance and sewer cleaning.
A complete range of services
While Sanivac is renowned for its expertise in sewer cleaning, we also offer a variety of residential, commercial, and municipal services. This expansion will eventually allow us to offer all our services to the Quebec community, including hydro excavation, portable toilet and sanitary trailer rentals, grease trap pumping, septic tank pumping, and steam thawing. We are committed to being your trusted partner for all your sanitary service needs or construction projects.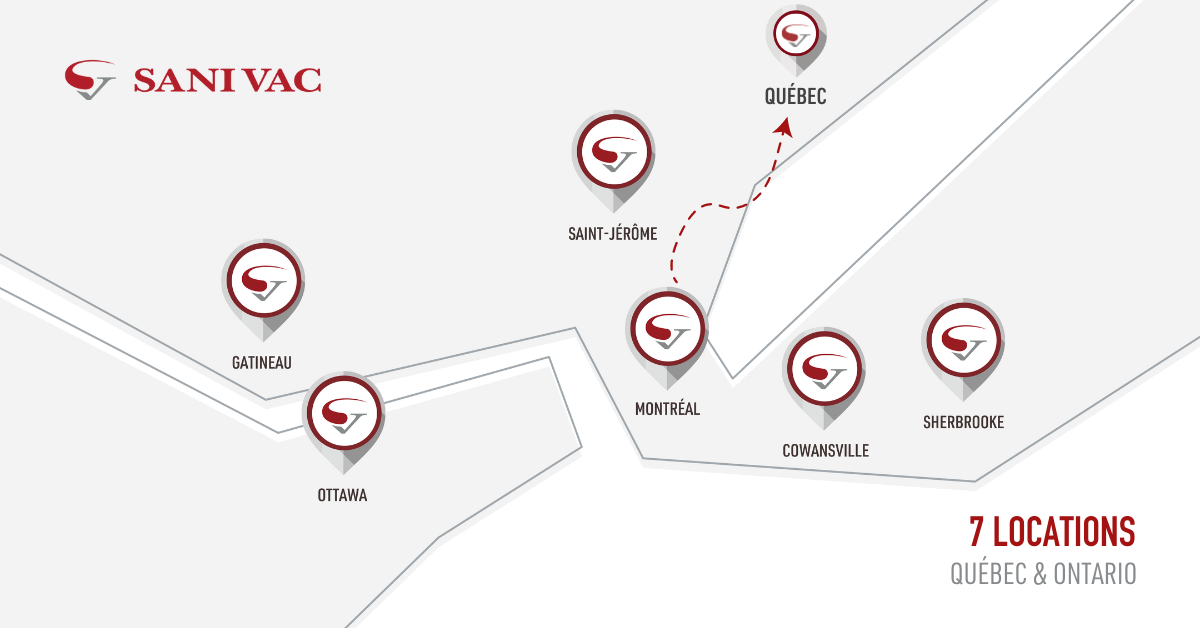 Commitment to the Quebec community
As a Quebec-based company, Sanivac is proud to serve the Quebec community. We are aware of our responsibility towards citizens and are committed to contributing to the sustainable development of the region and ensuring the highest environmental standards to preserve the beautiful city of Quebec.
Sanivac is excited to embark on this new adventure in the city of Quebec. We are confident that our presence will contribute to the improvement of municipal infrastructure, the maintenance of cleanliness, and the protection of the environment. The citizens of Quebec can trust Sanivac to provide professional and reliable services that meet their expectations.
An important step in our expansion
Sanivac's arrival in Quebec marks an important step in our expansion and the national growth of this Quebec leader in sanitary and environmental services. The Sanivac Group consists of 7 branches located in Quebec and Ontario. Our services are available in the Montreal, Laval, Laurentides, Outaouais, Ottawa, Montérégie, Estrie, Lanaudière, and Quebec regions. We are thrilled to soon offer all our services at our 7th service location in the city of Quebec.
For more information about the services offered by Sanivac, please visit our website or contact us at 1 877 345-1757.